Cast Gallery catalogue number: D064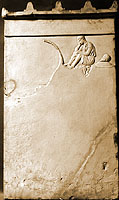 Warrior sitting on the prow of a ship. His helmet and armour are beside him. Details of the ship were depicted in paint, but are no longer visible.
The name Demokleides son of Demetrios is inscribed.
Plaster cast: Height: 77cm, Width: 46cm.
Copy of a marble grave stele.