Cast Gallery catalogue number: D037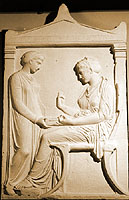 A seated woman picks out jewellery from a box held for her by a standing girl (possibly a servant).
The name Hegeso is inscribed.
Plaster cast: Height: 1.5m, Width: 97cm.
Copy of a marble grave stele.
The stele:

was made about 400 BC.
was found in the Kerameikos at Athens in 1870.
is now in Athens, National Museum, 3624.