Cast Gallery catalogue number: D032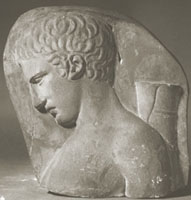 Head and shoulders of an archer.
Plaster cast: Height: 30 cm, Width: 30 cm.
Copy of a fragment of a marble tombstone.
The tombstone:

was made in about 420 BC.
was found in Hagia Pelagia near Achlada on Crete.
is now in Heraklion, Archaeological Museum.