Cast Gallery catalogue number: C193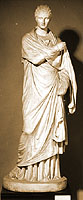 Woman or goddess, possibly Persephone.
Plaster cast: Height: 1.80m.
Copy of a marble statue.
The statue:

is known as the Herculaneum Maiden.
is a version of an original of about 300 BC.
was found at Herculaneum with the Herculaneum Matron in the early 1700s.
was purchased by Dresden in 1736 from the collection of Prince Eugen in Vienna.
is now in Dresden, Albertinum, 327.