Cast Gallery catalogue number: C178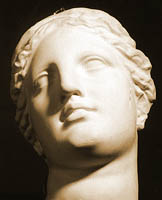 Head of Aphrodite.
Plaster cast: Height: 34cm.
Copy of a marble head.
The marble:

is known as the Leconfield Head.
is a version of the head of the original Aphrodite of Knidos made by Praxiteles in about 350 BC.
is now in Petworth House, England.