Cast Gallery catalogue number: C136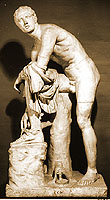 Hermes (or an athlete), with right foot resting on a rock so that he can adjust his sandal. He looks up while bending over his raised right knee. His left sandal is on the ground in front of him.
Plaster cast: Height: 1.62m.
Copy of a marble statue.
The statue:

is known as Jason or the Sandalbinder.
is a Roman version of a Greek bronze original of the 3rd century BC, probably by Lysippos.
was found in Hadrian's Villa at Tivoli in 1769 by Gavin Hamilton.
was formerly in the Lansdowne Collection, 85.
was acquired by Copenhagen in 1930.
is now in Copenhagen, Ny Carlsberg Glyptotek, inv. 2798.