Cast Gallery catalogue number: C133b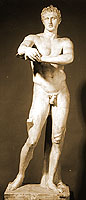 Athlete with strigil.
Plaster cast: Height: 2.12m.
Copy of a marble statue.
The statue:

is a version of the original bronze Apoxyomenos made by Lysippos in about 330 BC.
was found in Rome, Trastavere, in 1849.
is now in Rome, Musei Vaticani, Gabinetto dell' Apoxyomenos, inv. 1185.