Cast Gallery catalogue number: C112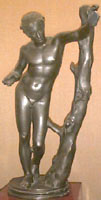 Apollo leaning agaist a tree-trunk with a lizard running up it. He held an arrow in his right hand and perhaps a cord tethering the lizard in his left.
For another version of the same original see C111.
Plaster cast: Height: 1.06m.
Copy of a bronze statue.
The statue:

is a version of the original bronze statue made by Praxiteles in about 350 BC.
was found in Rome in a vineyard below the Church of S. Balbina.
is now in Rome, Villa Albani, inv. 952.