Cast Gallery catalogue number: C097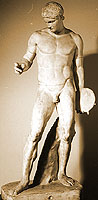 Discus-thrower.
Plaster cast: Height: 1.79m.
Copy of a marble statue.
The statue:

is a version of an original bronze of about 400 BC.
was restored with a head that does not belong, see C098 for correct head.
was found in 1771 by Gavin Hamilton at Tor Columbaro on the Via Appia (near Rome).
is now in Rome, Musei Vaticani, Sala della Biga, inv. 2349.