Cast Gallery catalogue number: C090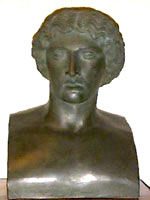 Head of an Amazon.
Plaster cast: Height: 51cm.
Copy of a bronze head of an Amazon of the type known as Mattei.
The bronze head:

is a version of a Greek original of about 440-430 BC.
was found at Herculaneum, Villa dei Papiri.
is now in Naples, Museo Archeologico Nazionale, inv. 4889.