Cast Gallery catalogue number: C063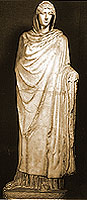 A goddess or woman, probably Europa, wearing a peplos and himation.
Plaster cast: Height: 2.01m.
Copy of a marble statue.
The statue:

is known as Europa, Aspasia, Sosandra or Amelung's Goddess.
is a version of a Greek original of about 460-450 BC.
is now in Berlin, Antikensammlung, inv. 605.