Cast Gallery catalogue number: C057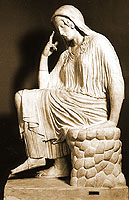 Woman sitting pensive, probably Penelope.
Plaster cast: Height: 1.23m.
Copy of a marble statue.
The statue:

is a version of a Greek original of about 460 BC.
was restored with a head that does not belong - the chin should rest on the right hand.
is now in Rome, Musei Vaticani, Galleria delle Statue, inv. 754.