Cast Gallery catalogue number: B201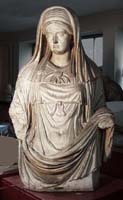 Portrait statue of a Vestal Virgin.
Plaster cast: Height: 1.21 m.
Copy of a part of a marble statue.
The statue:

was made in the 2nd century AD.
was found in the Forum in the House of the Vestals
is now in Rome, Museo Nazionale delle Terme, inv. 639.