Cast Gallery catalogue number: B123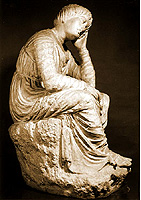 Mourning slave-woman.
One of a pair from a grave monument.
Plaster cast: Height: 1.01m.
Copy of a marble statue.
The statue:

is a Greek original of the 4th century BC.
was found on the site of ancient Acharnai near the village of Menidi in Attica.
was purchased for Berlin from the Sabouroff collection in 1884.
is now in Berlin, Antikensammlung, inv. 498/9.