Cast Gallery catalogue number: B115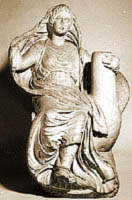 Aphrodite, riding on a goose.
Plaster cast: Height: 68cm.
Copy of a marble statue.
The statue:

is a Greek original of the 4th century BC.
was probably found in Rome, near Porta San Pancrazio.
was formerly in the Somzée and Warren collections.
is now in Boston, Museum of Fine Arts, inv. 03.752.