Cast Gallery catalogue number: B086a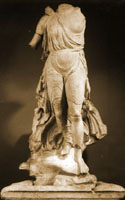 Nike. The inscription on the base reads:
The Messenians and Naupactians dedicated this to Olympian Zeus, a tithe from the spoils of war. Paionios of Mende made this, and was victor (in the competition) to make the akroteria for the temple.
For the head of Nike see B086b. For a possible later version of the head see C091.
Plaster cast: Height: 2.32m.
Copy of a marble statue.
The statue: