Cast Gallery catalogue number: B085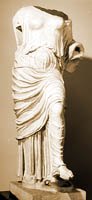 Aphrodite with her left foot resting on a turtle.
Plaster cast: Height: 1.8m.
Copy of a marble statue of uncertain date.
The statue:

is either a version of an original of about 410 BC, or is itself an original of much later date.
was found at Smyrna (now Izmir).
was known in Venice, Palazzo Brazza, in 1820.
is now in Berlin, Antikensammlung, inv. 1459.