Cast Gallery catalogue number: B068a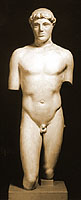 Youth, possibly an athlete.
Plaster cast: Height: 1.02m.
Copy of a marble statue.
The statue:

is known as the Kritian Boy because of the similarity of the head to that of Harmodios in the Tyrannicides group made by Kritos and Nesiotes and set up near the Athens Agora in 477/6 BC. (See C005a for a cast of Harmodios).
is a Greek original of about 490-480 BC.
is now in Athens, Acropolis Museum 698.