Cast Gallery catalogue number: C172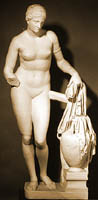 Aphrodite, nude, her left hand holding an item of dress over a water jar. She makes a concealing gesture with her right arm, perhaps because she has been surprised while bathing.
Plaster cast: Height: 2.16m.
Copy of a marble statue.
The statue:

is a version of the original Aphrodite of Knidos made by Praxiteles in about 350 BC.
was formerly in Palazzo Colonna in Rome.
is now in Rome, Musei Vaticani, Gabinetto delle Maschere, inv. 812.