Cast Gallery catalogue number: C032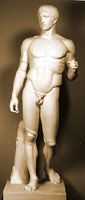 Youth, once holding a spear in his left hand.
For other versions of the same original see C033 and C034.
Plaster cast: Height: 2.13m.
Copy of a marble statue.
The statue:

is a version of the original bronze Doryphoros made by Polykleitos in about 440 BC.
was found at Pompeii.
is now in Naples, Museo Archeologico Nazionale.