Cast Gallery catalogue number: D092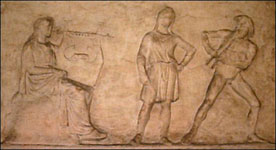 The satyr Marsyas plays the pipes for Apollo, whom he had challenged to a musical contest. Between them stands a Scythian who will flay Marsyas when he is (inevitably) defeated, for daring to challenge a god.
Plaster cast: Height: 97cm.
Copy of part of a marble relief.
The relief:

is from the base of a statue by Praxiteles.
was made in about 330 BC, perhaps by Praxiteles himself or by a sculptor from his workshop.
was found at Mantinea in southern Greece, in 1887.
is now in Athens, National Museum, 215-217.