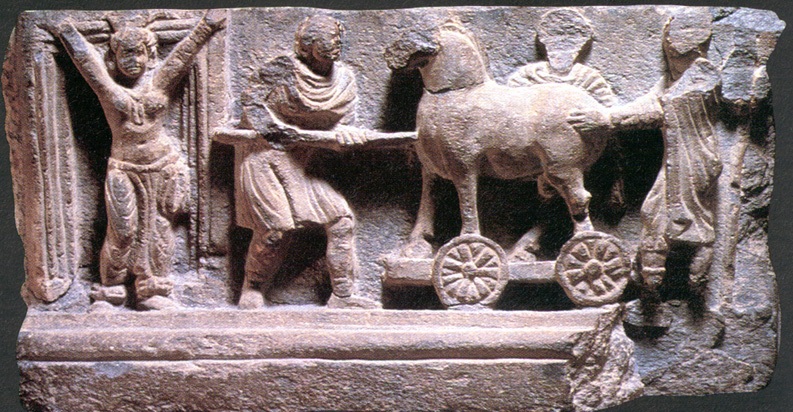 Other Resources
Please watch this space as we develop introductory essays on key topics and other resources for the study of Gandharan art and its classical connections.


From Maues to Mihirakula: Six Centuries of Coinage in Gandhara
A gallery of images from Dr Shailendra Bhandare's workshop at the Ashmolean Museum, 2nd June 2017, is now available here.
Short introductions to Gandharan topics
These downloadable introductory essays are intended to give brief, up-to-date overviews of particular topics and sites relevant to Gandharan art.
Dharmarajika, Taxila (by Wannaporn Rienjang) (including appendices listing stone and stucco sculptures from the site)
Sirkap (Taxila) (by Wannaporn Rienjang) (including appendix of sculptures from the site)
NEW! Takht-i-Bāhī (by Wannaporn Rienjang)

3D Scans of Gandharan Sculpture
In March 2018 we worked with colleagues in the Ashmolean Museum and a brilliant team from NU Digital Heritage at Newcastle University to produce 3D scans of a selection of Gandharan artefacts in the Ashmolean collection. We chose some of the most interesting and difficult objects sculptures for the Newcastle experts to scan, and they rose to the challenge! A selection of their models are available to explore online through the Classical Art Research Centre's Sketchfab page. The links to particular objects are below, listed by Ashmolean accession numbers.

Ashmolean EAOS.3 (for more information visit the Ashmolean's website)
Ashmolean EAOS.4 (for more information visit the Ashmolean's website)
Ashmolean EAOS.10 (for more information visit the Ashmolean's website)
Ashmolean EAOS.26 (for more information visit the Ashmolean's website)
Ashmolean EA1970.155 (for more information visit the Ashmolean's website)
(This model is relatively small - a good one to start browsing!)
Ashmolean EA1997.3 (for more information visit the Ashmolean's website)
Ashmolean EA1997.15 (for more information visit the Ashmolean's website)

(The models are large and best viewed via a fast internet connection.)